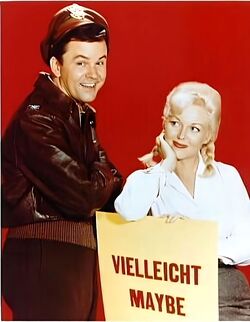 Cynthia Lynn, originally named Zinta Valda Zimilis, (April 2, 1936, (Riga, Latvia) — March 10, 2014 (Los Angeles, California)), was a Latvian-born actress. She is known mainly for her role as Helga, Klink's first secretary in the American sitcom, Hogan's Heroes in the 1965-1966 season. She also made a guest star appearance on the show in 1968 and again in 1971. Her last appearance on television was on a Harry O episode in 1975. She had also appeared on Mission:Impossible, The Odd Couple, The Six Million Dollar Man and Dr. Kildare.
She was born in Riga, Latvia in 1936, and with her mother, fled Latvia in 1944, before moving to the United States in 1950. She would later write an autobiography entitled Escape to Freedom with co-author Edward Ansara
Cynthia died on March 10, 2014 in Los Angeles, California, from multiple organ failure after being stricken with hepatitis.
Notable TV Guest Appearances
[
edit
|
edit source
]
Lynn, Cynthia, with Edward Ansara. 2000 Escape to Freedom: An Autobiograpy of Cynthia Lynn. AuthorHouse. ISBN 1588206467.
Community content is available under
CC-BY-SA
unless otherwise noted.