81
Welcome to the Hogan's Heroes Wiki, a database based on the popular CBS-TV sitcom series that anyone can edit!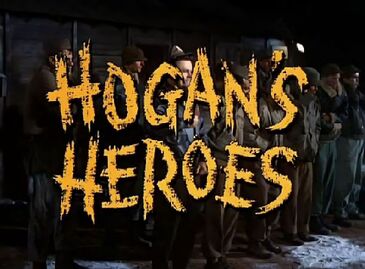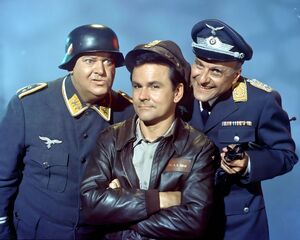 The Hogan's Heroes Wiki is a collaborative project to create the most definitive, accurate, and
accessible encyclopedia and reference database for everything related to Hogan's Heroes.
In this wiki, started on November 19, 2005, we are currently working on 1,360 articles.

Hogan's Heroes is a television sitcom that ran on the CBS television network from 1965 to 1971. Starring Bob Crane as Colonel Hogan, the show was set at Stalag 13, a German prisoner-of-war camp for Western Allied prisoners during World War II. In the plot, Stalag 13 was a "Luft Stalag", located near the village of Hammelburg, run by the German Air Force (Luftwaffe) for Allied Air Force personnel.
But underneath that camp, the POWs had plans of their own . . . and Schultz still saw nothing!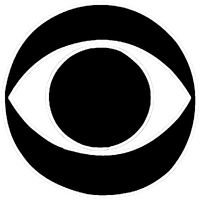 Newest pages - Popular pages - Episode List
Hogan's Heroes / WWII Historcial News
World War II: 77 years ago (May 8, 1945) saw the formal end of war in Europe with the near-midnight surrender of German armed forces at a ceremony in the seat of the Soviet Military Administration in Berlin. May 8 has been called V-E Day across western Europe ever since. In zones east of Berlin midnight had already passed at the time of surrender, so Russia and parts of eastern Europe celebrate Victory Day every May 9.
---
World War II: 77 years ago (April 30, 1945), Adolf Hitler fatally shot himself in his Berlin bunker. His new wife Eva Braun also died, having poisoned herself. News of Hitler's death would be broadcast from Radio Hamburg the following day.
---
Hogan's Heroes: 51 years ago (April 4, 1971), Rockets or Romance, the twenty-fourth and last episode of the sixth and final season of Hogan's Heroes, first appeared on CBS.
---
World War II: 77 years ago (March 27, 1945), Patton's task force arrived at the vicinity of the real Stalag 13 near Hammelburg and attacked the officers' compound. Their attempt to free Patton's son-in-law left the man wounded and immobile. The task force liberated some POWs but retreated in failure with many members captured or killed. But the success of Allied forces in general and Patton's in particular continued to worry Goebbels: The British and especially the Americans are at present pursuing really wide-ranging plans on the Western Front; this applies particularly to General Patton who has been conspicuous for his series of audacious advances ever since the start of the offensive and who is now well under way. He is letting it be known that practically nowhere is he meeting any firm resistance and consequently can drive around in our country unimpeded. This is in fact the case. only 28 new Me262s with which to oppose them and they can stay in the air for only half to three-quarters of an hour . . . Schaub is sent over by the Fuhrer to get the news. For his benefit I add a generous helping of criticism of the Luftwaffe and Goring.
More Hogan's Heroes/WW II Historical News:
---
Featured Article
Hold That Tiger
Series:
Hogan's Heroes
Episode Title:
Hold That Tiger
Season:
One
Episode:
Two
Original Air Date:
September 24, 1965
Hold That Tiger is the second episode of the Hogan's Heroes TV show's first season. It was originally aired on September 24, 1965.
Plot Details
[
]
Colonel Klink boasts to Hogan and his men during an evening roll call that Germany is developing some new and powerful weapons, including the new Tiger tank, which he claims would help to shorten the war, thus leading to a German victory. After roll call is over, Hogan quickly asks Klink if the tanks of the aforementioned Panzer Division are west of the camp; Klink tells him no, before Hogan goes into his barracks. Klink's boast leads Hogan and his men to start coming up with an elaborate scheme so that they can get their hands on one of the new Tiger tanks, from which they would make blueprints that they would then send over to London. Eventually, Hogan comes up with a plan.
The prisoners are soon working on an inside wall of Barracks 2, when Schultz appears. After he asks what is going on, Hogan tells Schultz that they are going to put in a picture window that would give the prisoners a sweeping view of the delousing station. A Waffen-SS officer, actually Newkirk in disguise, then appears, addressing Schultz. A panicking Schultz then calms down after seeing that it is Newkirk, but as he sees him leave with LeBeau to have the uniform worked on a bit more, Schultz becomes curious and asks Hogan why Newkirk is wearing the uniform. After being told the reason why by Hogan, a now very panicky Schultz leaves. Later Hogan enters Klink's office to protest to Klink about his men being interrogated by a Gestapo officer. Corporal Langenscheidt soon appears, after knocking on Klink's door several times, to inform Klink that a Gestapo officer wants to leave the camp, but he can't since there doesn't seem to be any record of him actually coming in. Klink tells the Senior Lance Corporal to let the Gestapo officer go, having no clue that it is actually Newkirk in disguise. Read more...
---