Line 43:
Line 43:
 

<h2 style="padding:3px; background:#95CEFA; color:black; text-align:center; font-weight:bold; font-size:100%; margin-bottom:5px;margin-top:0;margin-left:-5px;margin-right:-4px;">Featured Article<span style="float:right;"></span ></h2 >

 

<h2 style="padding:3px; background:#95CEFA; color:black; text-align:center; font-weight:bold; font-size:100%; margin-bottom:5px;margin-top:0;margin-left:-5px;margin-right:-4px;">Featured Article<span style="float:right;"></span ></h2 >

 

<B>Bob Crane</B>

 

<B>Bob Crane</B>

−

[[Image:180px-Bobcrane.jpg|right|100px]]

+

[[:180px-Bobcrane.jpg||]]

 
+

'''Robert Edward Crane''' (July 13, 1928 – June 29, 1978) was an American disc jockey and actor who starred as [[Colonel Hogan|Colonel Robert Hogan]] from 1965 to 1971. He was nominated for two Emmy Awards for his work on that show.

⚫

Crane was born in Waterbury, Connecticut. He

dropped out of

high school

and became

a drummer

, performing

with dance bands

and a symphony orchestra

. In 1949 he married his high school sweetheart; they eventually had three children.

In 1956

, he moved his family to California and

started

his radio career.

 
 
 
 
+

==Biography==

⚫
 
 
⚫
 
+
 
⚫
 
 
 

''[[Bob_Crane|Read more...]]

 

''[[Bob_Crane|Read more...]]
---
Revision as of 19:17, 20 November 2005
Welcome to the Hogan's Heroes Wiki, a database that anyone can edit.
The Hogan's Heroes Wiki is a collaborative project to create the most definitive, accurate, and
accessible encyclopedia and reference database for everything related to Hogan's Heroes.
In this wiki, started on November 19, 2005, we are currently working on 1,227 articles.

Hogan's Heroes was a television sitcom that ran on the CBS television network from 1965 to 1971. Starring Bob Crane as Colonel Hogan, the show was set at Stalag 13, a German prisoner of war camp for Western Allied prisoners during World War II. In the plot, Stalag 13 was a "Luft Stalag", located near the village of Hammelburg, run by the German Air Force (Luftwaffe) for Allied Air Force personnel.
But underneath that camp, the POWs had plans of their own....
Newest pages - Popular pages
Featured Article
Bob Crane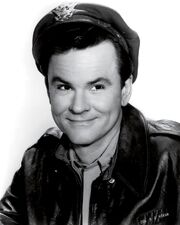 Robert Edward Crane (July 13, 1928 – June 29, 1978) was an American disc jockey and actor who starred as Colonel Robert Hogan from 1965 to 1971. He was nominated for two Emmy Awards for his work on that show.
Biography
Crane was born in Waterbury, Connecticut. He graduated from high school in 1946 after performing as a drummer at school and with dance bands, as well as the Connecticut Symphony Orchestra. In 1949 he married his high school sweetheart; they eventually had three children. This was the same year he began his radio career, at WLEA in Hornell, NY. Eventually, he rocketed to fame at WICC in Bridgeport, and was wooed to California to work at KNX in Los Angeles. So he moved his family to California and continued his radio career.
Crane's interest had always been in acting, and at the age of 33 he got some good breaks in his acting career. He soon was a regular on The Donna Reed Show during the 1963 - 1965 seasons. On the Dick Van Dyke Show he played a character named "Harry" who tried out for the role of Marc Anthony in a community play...
---